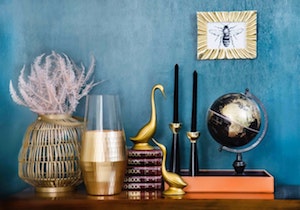 Are you planning to sell your home? When you are putting your home on the market, it is important to prepare it in advance so that it's appealing from day one to potential buyers. It is often the case that there is a flurry of interest when a new listing is first advertised (particularly in a hot market), and a little work leading up to listing your home may just well result in a quick sale at a premium price. There are a few things you can do to make your home appealing to potential buyers.
Curb appeal – if you've ever watched a show on home improvement or sales, curb appeal will have invariably been mentioned. The front yard and entry of your home is what potential buyers first see in online photos or when they drive by to see if your home is of interest to them. A good first impression of the exterior of your home can be the difference between them passing on by or stopping to further investigate. Some suggestions to make a good first impression are to keep the lawn looking tidy, prune shrubs and weed gardens, lay down some new mulch and plant some inexpensive flowers for pops of color. Look at your front porch, door, shutters, etc. Do they need some sprucing up? If so, a few hours with a scraper and can on paint is inexpensive and goes a long way towards cleaning up the appearance of your home. Lastly, if you have a porch or stoop, you might invest in a planter or pot filled with flowers and welcome mat to brighten the space.
Clean the Exterior – Siding and windows get dirty. Another aspect of curb appeal is to make sure that the exterior of your home has been cleaned. You should be sure to clean out gutters that are choked with leaves and wash down the siding and windows. Seeing a clean and tidy exterior will encourage potential buyers to want to see what's on the inside of your home, and getting them through your front door is the first step to selling your home. Beyond this, if you have some damaged siding or roof tiles, it might be worth your while to get estimates on repairs and if it is affordable, consider having repairs made. If you choose not to, having these estimates can help to establish an accurate price for your home or can be used in the negotiation process when a purchaser makes an offer on your home.
Clean, Organize and Declutter the Interior – Think like a buyer and take a walk through your home. Is it clean and organized, with minimal visual distractions? A buyer needs to be able to envision themselves living in your home. If the house is dirty, cluttered or disorganized, they will have a harder time seeing themselves living there. A dirty and messy house will also make it hard for them to see your home's special qualities, such as its great architectural features or ample storage. You want them to focus on your home, not the stuff filling your home. The first step is to remove excess furniture and decorations from the main rooms, and excess clothing and other stored items in closets. Your home should still look cozy, but not cluttered. A part of this process is to also depersonalize the space by removing photos, knickknacks and mementos, so that buyers can see themselves there. Once you've decluttered and depersonalized the space, deep clean your home. Clean the windows, sills and trim, wash curtains and dust ceiling fans, in addition to sweeping, vacuuming, wiping down furniture, etc. Whenever a potential buyer is scheduled to go through your home, make sure it is picked up and looking neat.
Eliminate undesirable odors – A buyers first impression of your home not only relates to how it looks, but also how it smells. Pets, cooking and mildew all impact the smell of your home, and it's best to neutralize these smells as much as possible. If you have a basement, run a dehumidifier. This can help immensely to not only remove moisture, but also to help remove the smell of mildew.. Having your carpets cleaned can go a long way to diminish pet odors, as well as making your home more visually appealing. Air out your home by opening windows and running a fan, and spray air neutralizers to help to give your home a fresh smell. When showing your home, make sure the litter box is clean and tucked away. Consider putting out a vase or two of fresh flowers, or the age-old trick of baking some cookies prior to your open house.
Paint and Repairs – Sellers often ask us if they should paint the interior of their homes or make repairs. The answer really depends on time, money and the severity of the issue. We recently showed a house that was very neat and clean, but was painted in neon pinks and greens. Such bright colors are hard for some buyers to look past to see the potential in a home. The work around these sellers did was to get an estimate for painting the whole house and offer to pay for painting upon the sale of the home. If you have bright or highly saturated colors in just one or two rooms, it's a good idea to paint these rooms with neutral colors so that the home will appeal to the widest range of buyers possible. If you have damage to the interior of your home that can be fixed inexpensively (broken door, hole in wall, scratched up wood floors, etc.), make sure to do these repairs. If you are short on funds or time for larger repairs, you should disclose the problems, get estimates for repairs and be prepared for these big ticket items to be a part of the negotiation on the sale of your home.
Walk Through – Your realtor can help guide you through the process of preparing your home for sale. Once you've determined to sell your home and chosen an realtor, request they do a walk-through of your home. They should have experience in selling homes, know the market and be able to offer you advice on preparing your home for sale. If you live in West Michigan, feel free to call us at 616-836-0000 and we can provide this service, as well as complete a market analysis on your home to determine its current value.